PUBLIC NOTICE
PROPOSED ROGERS 43.0 METER WIRELESS TELECOMMUNICATIONS SELF-SUPPORT TOWER INSTALLATION
The proposed installation is composed of a 43.0-meter self-support telecommunications tower, including the antennas and a lightning rod. Rogers will comply with marking and lighting requirements in accordance with Transport Canada protocols.
Location: 2000 Kingfisher Ave N, Kitimat, BC (Hirsch Creek Golf and Winter Club), PID: 030-396-808
Geographic Coordinates: 54.071799, -128.634122
Objective: To improve wireless coverage in the northern area of Kitimat and to meet rising demands for wireless services.
Details: An equipment shelter will also be installed at the base of the proposed tower and the entire site will be surrounded by a security fence with a locked gated access point.
The public is invited to provide written comments by end of business day on September 11th, 2023 to the contact information shown below. Please include a return address.
Tower Installation Project:
Projet d'installation de communication sans fil
Reference: W9921 – Navigata Kitimat
Contact Information for Rogers' Representative:
Brian Gregg, SitePath Consulting Ltd. PO Box 20138,
Vancouver RPO, Fairview, BC V5Z 0C1 Phone: 778-870-1388 Email: briangregg@sitepathconsulting.com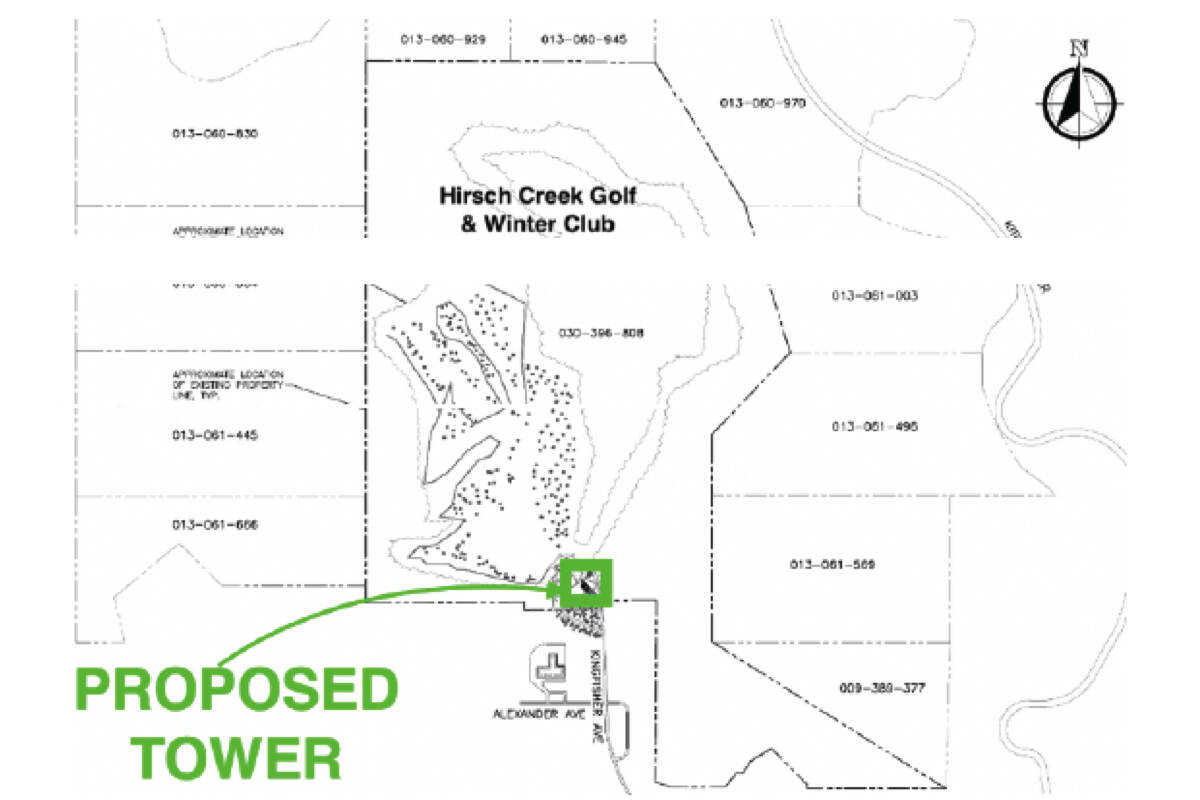 NOTIFICATION DU PUBLIC
EMPLACEMENT PROPOSÉ PAR ROGERS POUR L'IMPLANTATION D'UNE TOUR AUTOPORTANTE D'ENVIRON 43.0 MÈTRES DE HAUTEUR
Le site de télécommunication proposé sera composé d'une tour de type autoportante d'une élévation hors-tout d'environ 43.0 mètres incluant les antennes, le balisage aérien et le parafoudre.
Lieu : 2000 Kingfisher Ave N, Kitimat, BC PID :030-396-808
Les Coordonnées Géographiques: 54.071799, -128.634122
Objectif : Afin d'améliorer la couverture sans fil dans la région nord de Kitimat et de répondre à la demande croissante de services sans fil.
Détails : Un cabinet d'équipements sera aussi aménagé à la base de la tour et l'ensemble du site sera ceinturé d'une clôture de sécurité et d'une entrée verrouillée.
Les citoyens sont invités à faire part de leurs commentaires, avant la fermeture des bureaux de Rogers le Septembre 11th, 2023 soit à l'adresse indiquée (avec une adresse de retour).
Tower Installation Project:
Projet d'installation de communication sans fil
Reference: W9921 – Navigata Kitimat
Contact Information for Rogers' Representative:
Brian Gregg, SitePath Consulting Ltd. PO Box 20138,
Vancouver RPO, Fairview, BC V5Z 0C1 Phone: 778-870-1388 Email: briangregg@sitepathconsulting.com