Dr. Nicholas Sparrow heard the sirens pass his clinic and felt compelled to give chase.
Sparrow was working in Gibsons, B.C., when on March 31, 2009 he heard first responders outside. Doctors don't typically attend emergency scenes — those are left to paramedics, police and firefighters. But Sparrow has training unique among Canadian physicians.
Only one year earlier Sparrow had just finished field training for physicians before immigrating from the United Kingdom. And on that day in Gibsons, Sparrow decided he wouldn't wait to save lives.
At the scene, a care home resident had shot staff at Good Samaritan Canada Christenson Village. Sparrow treated one of the shooting victims and afterward made a pitch to BC Emergency Health Services to become a community response doctor. His plan was endorsed by Sechelt Fire Department, who gave him a pager and invited him to attend calls.
Thirteen years later, saving lives in the most traumatic situations has become Sparrow's vocation.
"I feel in my heart I'm meant to do this," he says. "It's like a calling, and if there's a calling, someone's calling you to do it. I have a strong faith. At times it is really tough, but I know I'm meant to do it. I don't always understand it, but I know I'm meant to do it."
In 2013, Sparrow and his family relocated to Nelson. He works at Kootenay Lake Hospital as an emergency room doctor, and at all other hours as a volunteer response doctor for Kootenay Emergency Response Physicians Association (KERPA), which Sparrow founded in 2016.
For volunteerism that has likely saved hundreds of lives in the West Kootenay, the Nelson Star has named Sparrow its 2022 Citizen of the Year. The award has been handed out annually since 1964 to people who go above and beyond for our community.
If he's not in the ER or sleeping, Sparrow is available to help. From 2014 to 2022 Sparrow responded to 971 calls, 126 of which were last year.
"If I can go," he says, "I go."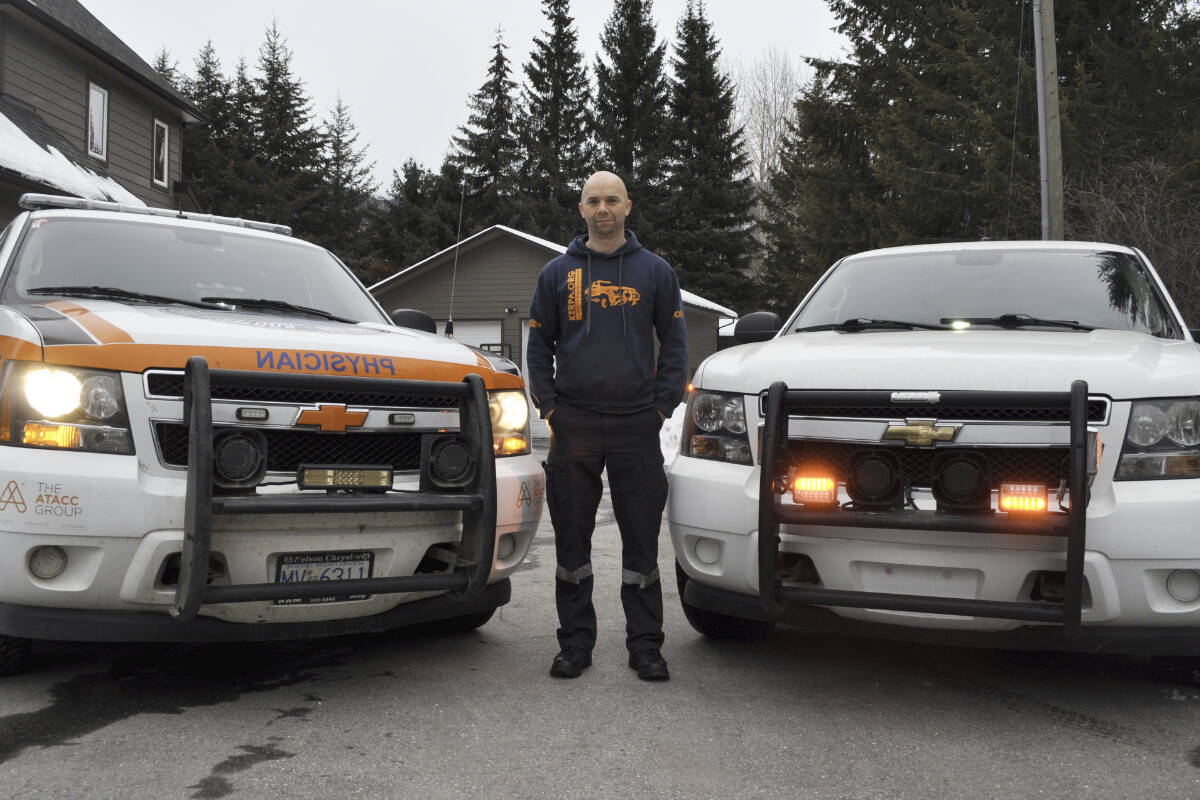 Medicine is part of the Sparrow family history.
His grandfather was doctor and mother a nurse, but a close call in his childhood involving first responders also made a life-long impression on Sparrow.
When he was five, his family was attending a Red Cross event when Sparrow's toddler sister wandered away. She was found facedown in a pool in cardiac arrest. A Red Cross medic gave her CPR, and Sparrow never forgot who saved his sister's life.
Years later as an adult he was travelling with his wife Krista and their child when the family came across a motor vehicle accident. Sparrow got out of his car to assist the victim, but when another physician arrived Sparrow was impressed by how they handled the situation.
Field-trained physicians are rare in Canada but common in the United Kingdom. Since 1977, the British Association of Immediate Care has provided doctors with the tools they need to provide pre-hospital care. After witnessing the accident, Sparrow signed up.
"I was like, wow, I've really got to get better in this situation to help people. Even though I was working in emerg, I could help people there but I couldn't transition some of that care into the field."
He had just completed the training when before immigrating to Canada in 2008. He began practising on the Sunshine Coast, and after the Gibsons shooting occurred Sparrow decided he would make on-scene emergency care his life's work.
It was a shaky start. Sparrow's first vehicle in Canada was an Oldsmobile bought for a dollar from his father-in-law. It had no sirens and one time Sparrow was pulled over for speeding on his way to an emergency scene. But the plan worked, and was soon accepted by the community.
After the family moved to Nelson, Sparrow resumed responding to calls but began to run into barriers. He was funding all the equipment himself, and because his car didn't have lights or sirens he found himself getting stuck in traffic on the way to emergencies. He needed help.
The solution was KERPA, which Sparrow founded in 2016. The registered charity is 100 per cent funded by donations, grants and sponsorships. It operates on an annual budget of just $56,000, but provides Sparrow with a proper response vehicle that comes equipped with a portable ultrasound, cardiac monitoring and arrest treatments and on-scene surgical tools.
KERPA only responds to the highest-priority calls assigned by British Columbia Emergency Health Services. If you've witnessed a serious car crash from Trail north to Kaslo and Nakusp, then you've likely seen Sparrow's orange and white vehicle nearby.
In 2021, KERPA became the first emergency medical service in Canada to receive approval from the Commission on Accreditation of Medical Transport Systems, which evaluates whether or not an organization meets international standards for patient care.
KERPA is also no longer just Sparrow. It has a board of directors and includes clinical support from Jason Lynn, a former chief flight nurse with an air ambulance company, and Chris Hillary, who teaches at Selkirk College's School of Nursing.
Last month KERPA received its second vehicle, which Sparrow hopes by the end of the year will be used by a second doctor he has been training. Sparrow's dream is for KERPA to become a 24-7 service with government funding and doctors waiting to respond in communities across the region.
That shouldn't suggest Sparrow is the only first-responder saving lives. Paramedics and firefighters, he says, are essential to providing fast care (Sparrow has special praise for local volunteer fire departments). Everyone is there for the patient, and Sparrow is rarely first on scene.
"I'm represented because I'm out there in an orange truck, it sometimes grabs attention. But actually, what's way more important is that one first responder who gets there who does basic life support or the paramedic who gets there who sustains life and enables us to build on that care."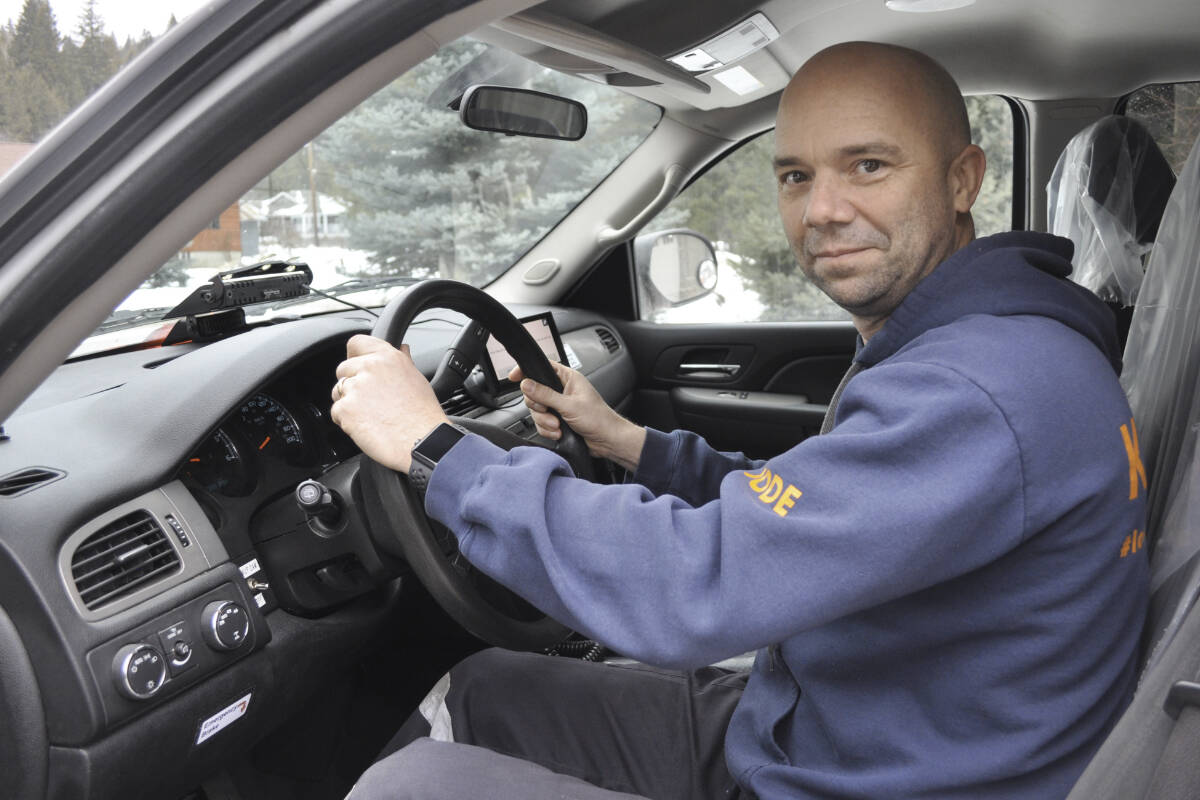 Sparrow's presence also doesn't guarantee good outcomes. One in 10 calls that KERPA responds to, he says, end in a patient's death.
When this happens, Sparrow's instinct is to embrace grieving family members. The hug is often for him as much as it is for them.
"That makes me emotional, because I'm a human. There's someone who's just lost their kid or dad or mom. I don't just go, 'I'm sorry your family members died.' I give them a big hug, because that's life.
"Nick the tough guy? I'm not tough, this is hard work. But actually that level of just being human and hugging someone is enough to stop them going and killing themselves that night because they have so much sadness about the event."
All that death, he says, sometimes comes at a cost in his family life. Sparrow and Krista have six children between the ages of five and 19, and he's struggled in the past to reconcile with the trauma that follows him home.
But he's getting better at it. Recently Sparrow was out late on a call that ended in a patient's death. When he returned home, Sparrow found his son still up past bedtime on a school night because he had to show his dad a new Pokemon card.
Did his son need to know in that moment what his father had been doing? About the life he couldn't save? No, he didn't, and the realization that not everyone needs to carry trauma has lifted a weight in Sparrow's life.
"Some of this stuff, although it's heartbreaking, gives you a deeper appreciation of some other things if you can stick it out."
@tyler_harper | tyler.harper@nelsonstar.com
Like us on Facebook and follow us on Twitter.