Big and brawny utility vehicles aren't to everyone's liking, or to their requirements. If a small-and-tall wagon-type model would suit you just fine, then there are vehicles such as the Hyundai Venue.
After introducing the full-size, eight-passenger Palisade for 2019, Hyundai addressed the opposite end of the spectrum by adding the subcompact Venue. It was also launched for 2019 and is the smallest vehicle of its type in the company's portfolio.
The Venue's understated yet practical styling is dominated by a fulsome grille, a tall roofline and generously sized front, rear and side glass. The body lines are crisp, with minimal front and rear overhangs, which suggests that the Venue is ready to play beyond where the pavement ends. That territory remains beyond the little Hyundai's comfort zone, however, since all-wheel-drive is absent from the options list.
That shouldn't be of major concern for buyers seeking basic transportation, but it could be a factor for people living where winter can pack the occasional wallop. The Nissan Kicks, a prime competitor, is also strictly front-wheel-drive.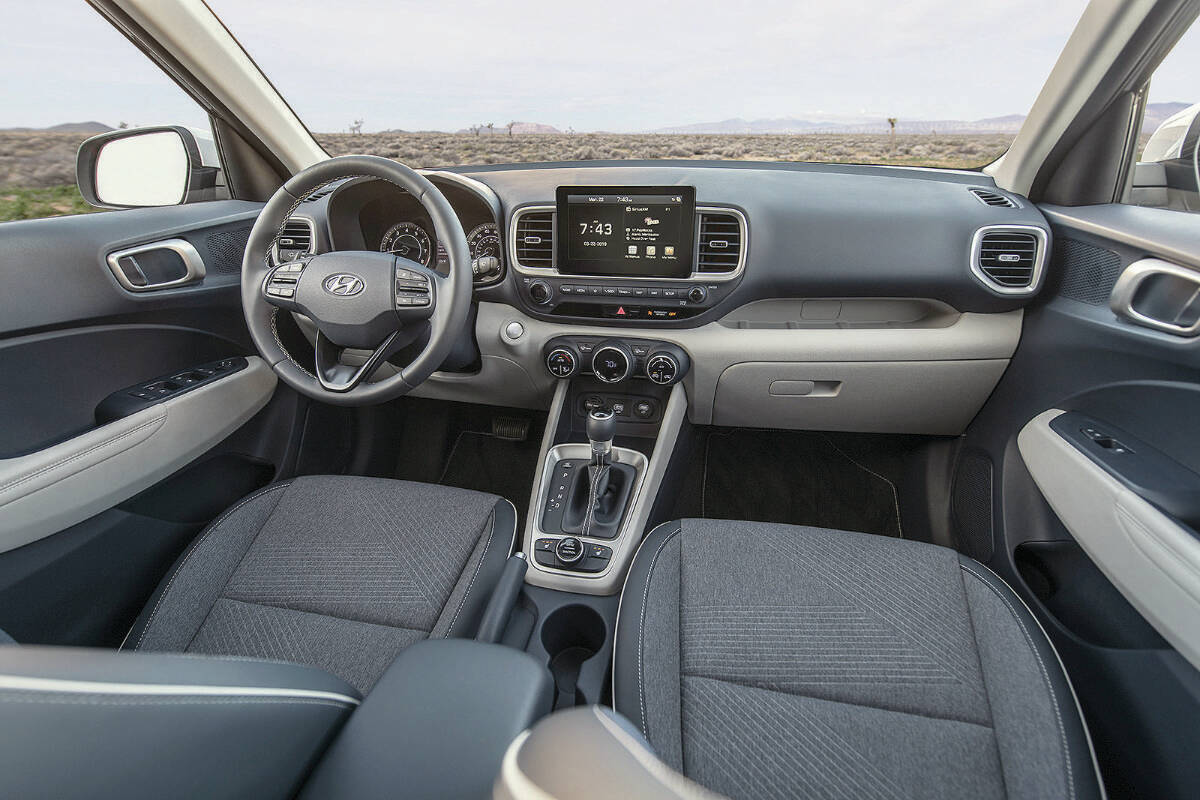 Compared with the Nissan, the Venue is about 25 centimetres shorter and there's 7.5 cm less distance between the front and rear wheels. In fact, of all the new subcompact cars on the market, only the Mitsubishi Mirage and the Mini Cooper cast a smaller shadow.
Diminutive as it is, the amount of passenger and stowage space with the back seat upright or folded flat is surprisingly generous. The seats are also nicely finished and feel supportive, and thanks to a tall roofline, they're easily accessible.
For 2023, Hyundai has thoughtfully included a sliding centre armrest between the front seats as standard equipment. Also added is a rear occupant alert to remind drivers to check behind them before leaving the vehicle.
The dashboard is a paragon of simplicity, with easy-to-use knobs and switches for the audio and climate controls. The driver's info screen is easy to read and clearly marked, as is the standard eight-inch touch-screen positioned between the twin air vents. The old-school-style manual parking brake handle is equally straightforward.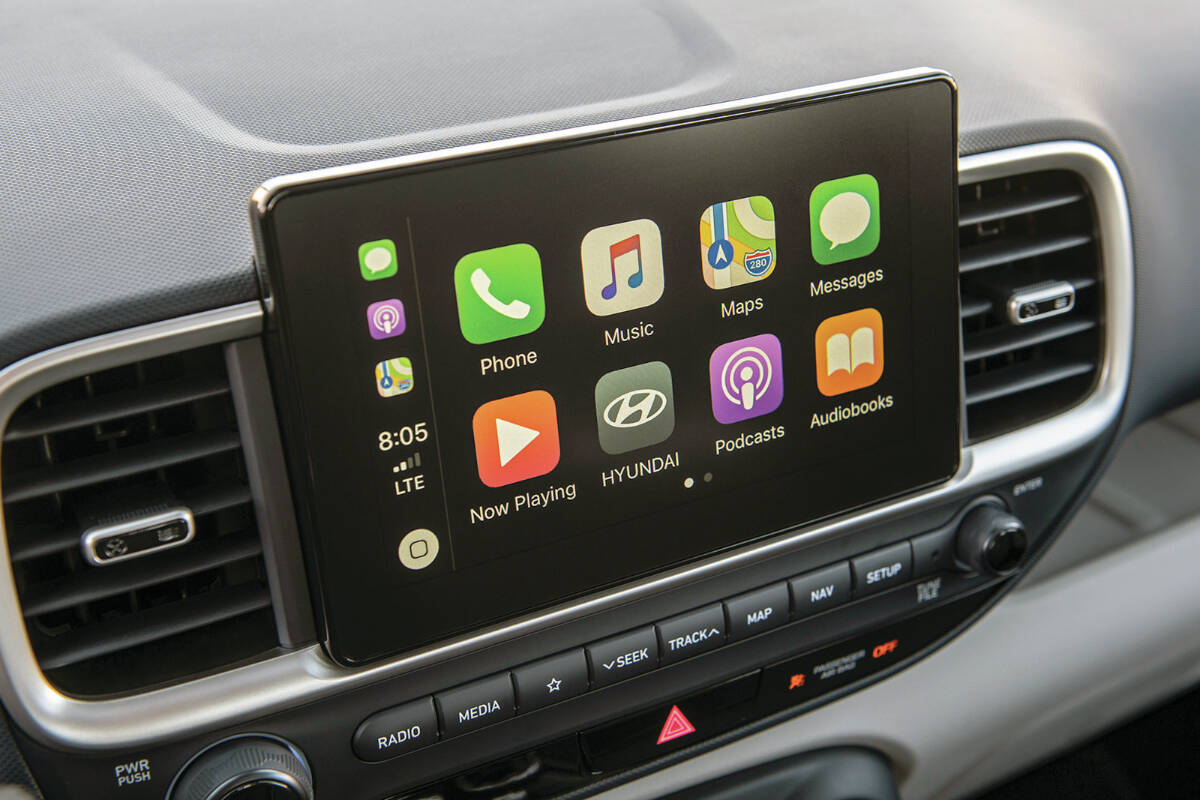 The Venue's 1.6-litre four-cylinder is rated at 121 horsepower and 113 pound-feet of torque. It works well in stop-and-go situations and gets up to speed relatively quickly. On the highway, however, the Venue comes up flat during passing maneuvers or when heading uphill. The fact that it weighs about 1,180 kilograms — slightly more than a Mazda MX-5 (Miata) — does offset the power shortfall, but only to a limited degree.
Otherwise, the Venue's direct steering serves it well when cornering, and the suspension delivers a comfortable ride over uneven pavement.
A continuously variable transmission is standard across the line. The available six-speed manual transmission was deleted after the 2020 model year.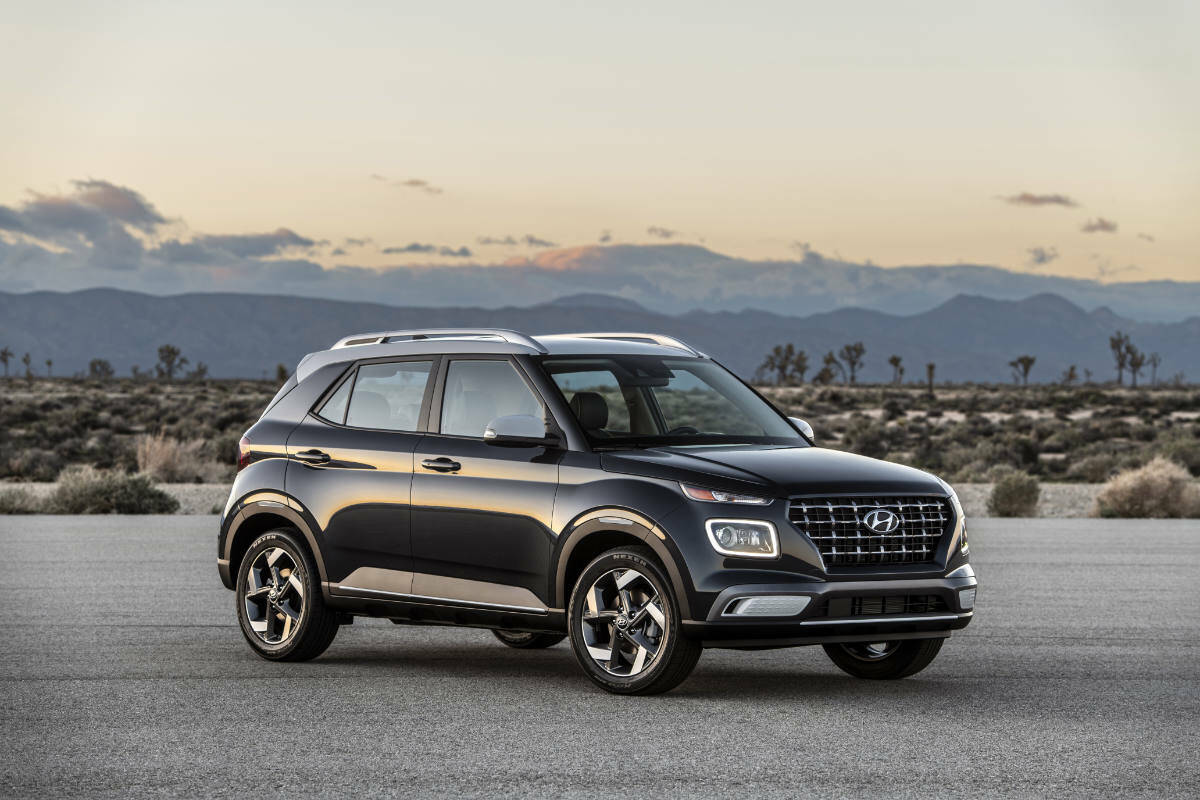 When the Venue is properly equipped, it's rated to tow 1,090 kg.
Fuel consumption is pegged at 7.9 l/100 km in the city, 7.0 on the highway and 7.5 combined.
In addition to saving money at the pumps, the Venue's $23,100 base price, including destination charges, makes it relatively affordable.
The base trim, the Essential, comes with most power-operated functions plus 15-inch alloy wheels and a four-speaker audio system with Bluetooth connectivity. Also standard is forward-collision intervention with pedestrian detection, lane-keeping assist and driver-attention warning.
The midgrade trim, called the Preferred, is equipped with climate control, roof rails, six-speaker audio system and 17-inch alloy wheels. Blind-spot detection with rear cross-traffic alert is also included.
The top-level Ultimate adds a power sunroof, navigation system, heated front seats, wireless phone charging and LED headlights and taillights. Denim Blue cloth seat coverings are also standard.
The Venue does have its obvious limitations, but as a short-haul commuter/grocery-getter, it checks off most boxes and might just might be your kind of niche vehicle.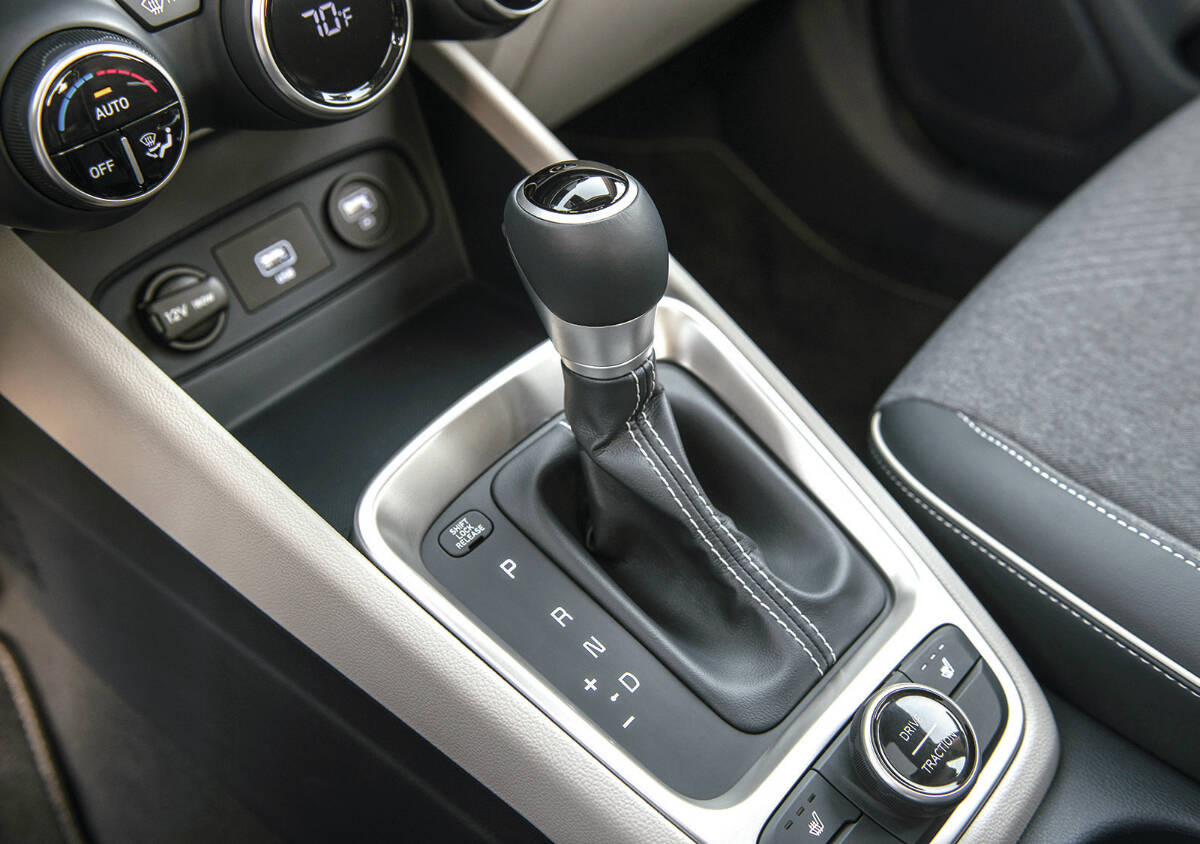 What you should know: 2023 Hyundai Venue
Type: Front-wheel-drive sub-compact wagon
Engine (h.p.): 1.6-litre I-4 (121)
Transmission: Continuously variable
Market position: The Venue is one of a few small-sized utility-style vehicle models that don't offer all-wheel-drive. Their strong suits centre on providing fuel efficiency and roomy passenger compartments.
Points: Styling is more about practicality than looks. • Modest interior appointments are far from luxurious, but the controls are simple to use. • The four-cylinder engine is more about operating economy than performance, but a small-displacement turbo option might add interest. • Low base price makes it an appealing alternative to purchasing a used vehicle.
Active safety: Blind-spot warning with rear cross-traffic backup alert (opt.); automatic emergency front braking (std.); inattentive-driver alert (std.); lane-departure warning (std.); pedestrian detection (std.).
L/100 km (city/hwy): 7.9/7.0
Base price (incl. destination): $23,100
BY COMPARISON
Nissan Kicks
Base price: $22,700
Budget-based FWD wagon is similar to the Venue in style and price.
Chevrolet Trailblazer
Base price: $27,150
Compact model offers base and opt. turbo I-3 engines. AWD is optional.
Mitsubishi Mirage
Base price: $16,200
One of the least expensive cars you can buy uses a 78-h.p. I-4. No AWD.
– written by Malcom Gunn, Managing Partner at Wheelbase Media
If you're interested in new or used vehicles, be sure to visit TodaysDrive.com to find your dream car today! Like us on Facebook and follow us on Instagram